---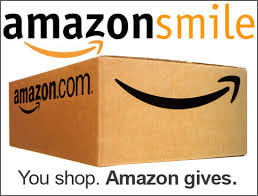 Fryeburg Rescue is pleased to be one of the select non profit organizations that benefit when you shop Amazon Smile. When you use Amazon Smile with Fryeburg Rescue Association as your chosen organization, Amazon donates 0.5% of the purchase price of everything you purchase back to Fryeburg Rescue. If you already use Amazon Smile when shopping online consider choosing Fryeburg Rescue as your default organization of choice. If not, It's easy to get started; just follow the inst
ructions below to start "sharing smiles" with Fryeburg Rescue:
1.Visit
smile.amazon.com
2. Sign in and Choose Your Charity
3. Select "Fryeburg Rescue Association"
The entire shopping experience is the same and most products available on
amazon.com
are available at Amazon Smile.
---
---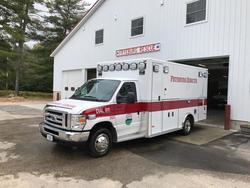 October 2017, we took delivery of the latest addition to our ambulance fleet, a brand new 2017 Ford E450 PL Custom from longtime supplier Sugarloaf Ambulance. This ambulance replaces our previous unit 501 after many years of faithful service. We wasted no time putting it into rotation and we're excited to have it in service.


---
---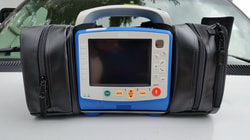 We recently purchased a second Zoll X cardiac monitor. This unit incorporates the latest technology in a rugged, compact package allowing us to carry it more easily to the scene when necessary and help us provide the best possible care. Our two front-line ambulances are equipped with these monitors and we'll be adding another to our third ambulance next year to complete our fleet upgrade.

---
---
| | |
| --- | --- |
| | Fryeburg Rescue is pleased to have received the FY2017 Homeland Security Grant Program funding award through the Oxford County Emergency Management Agency to improve preparedness and response capabilities for Homeland Security related events in the State of Maine. This grant allowed us to purchase a Night Vision Monocular that will greatly aid in search and rescue situations at night and in low light conditions. |
---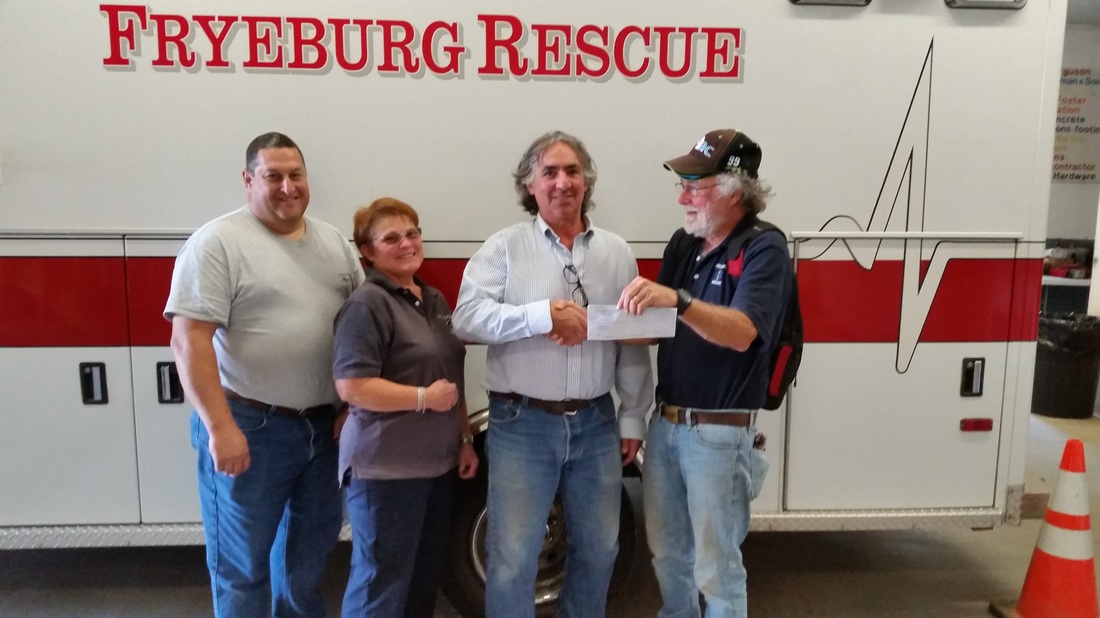 Again this year, Steve Goldsmith, Principal at Casco Bay Wealth Advisors, generously made a donation to Fryeburg Rescue in direct support of our Bicycle Helmet giveaway. Casco Bay Wealth Advisors (CBWA) charitable giving program is designed to financially assist local non-profit organizations selected by the partners of the firm. Each of the six partners select one organization per year to receive a donation. This year Fryeburg Rescue was fortunate to be chosen as Steve (center right in the photo) handed a check to Jimmy Oliver of

Fryeburg Rescue. Thanks to financial support like this we are able to continue proactive health and wellness community outreach programs such as this, a cornerstone of our mission at Fryeburg Rescue. Held at our booth at the Fryeburg Fair, our volunteers size, fit, and give away new bicycle helmets to any toddler, child, or adult who needs one. Every year at this event we give away hundreds of these properly fitted helmets promoting the healthy, fun, and recreational activity of bicycling while emphasizing safety. We are thankful to CBWA to be the recipient of this generous contribution.

---
---
| | |
| --- | --- |
| | Once again at our 2017 Fryeburg Fair booth we gave away cases of bicycle helmets through our bicycle helmet giveaway program promoting a healthy and fun lifestyle. Bicycle riding is a fun recreational activity for any aged family member and we offer a free bike helmet to toddlers and kids from anywhere. All helmets are new and sized to the wearer by trained personnel right there at our Fair booth. This is another way for us to be proactive while stressing the importance of health and wellness. We feel it's our mission at Fryeburg Rescue to go beyond emergency medical services. |
---